Compound W® NitroFreeze™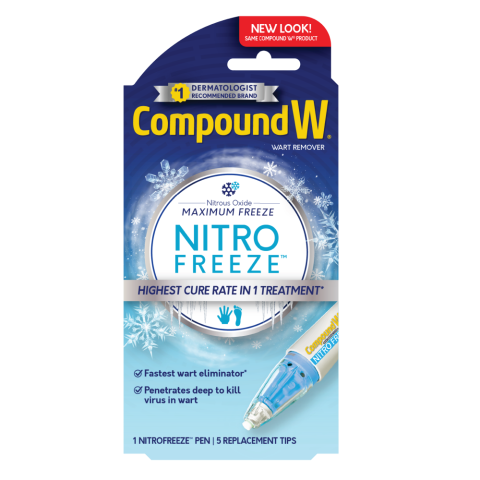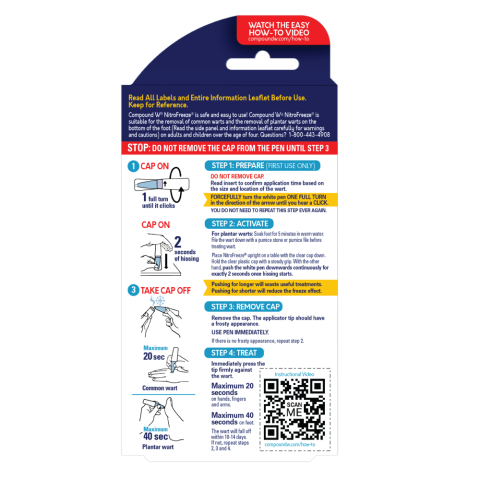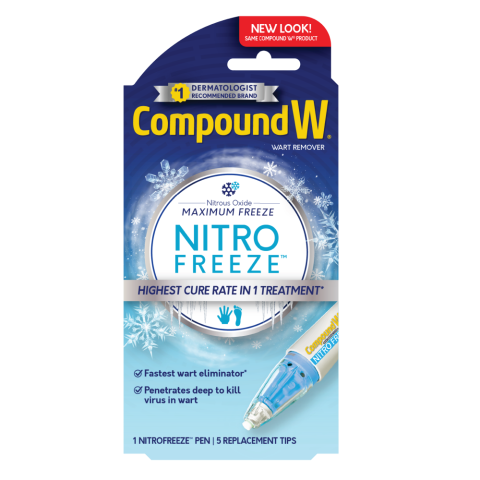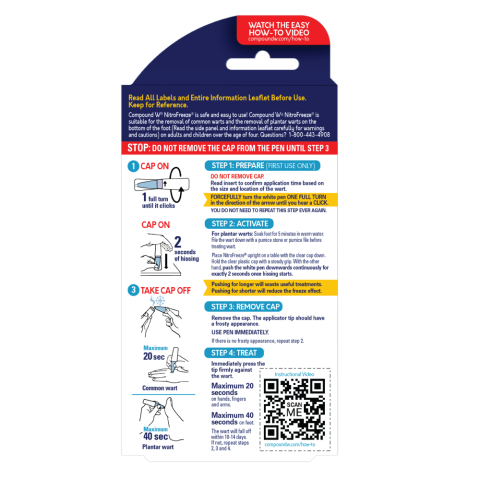 Compound W® NitroFreeze™
The First Non-Prescription Nitrous Oxide Wart Treatment.
Deeply Penetrates to Kill Virus in Wart.
Now it's easy to eliminate even the toughest warts with Compound W® NitroFreeze™, the first non-prescription nitrous oxide wart treatment. NitroFreeze™ penetrates deep to kill the virus in the wart, delivering the highest cure rate in one treatment.*
Maximum strength freezing power
Safe and easy to use
Works on common and plantar warts
Safe for kids 4+
* Based on clinical data comparing NitroFreeze™ to Compound W® Freeze Off Advanced™
Use As Directed.
Step 1: Prepare (First use only)

DO NOT REMOVE CAP.

Consult this chart to confirm the application time based on the size and location of the wart.

Forcefully turn the white pen one full turn in the direction of the arrow pb-5 until you hear a click.

You do not need to repeat this step ever again.

Step 2: Activate

For plantar warts: Soak foot for 5 minutes in warm water. File the wart down with a pumice stone or pumice file before treating wart. Dry thoroughly.

Place NitroFreeze™ upright on a table with the clear cap down. Hold the clear plastic cap with a steady grip. With the other hand, push the white pen downwards continuously for exactly 2 seconds once hissing starts.

If you do not hear a hissing sound, go back to Step 1.

Pushing for longer will waste useful treatments.

Pushing for shorter will reduce the freeze effect.

Step 3: Remove Cap

Remove the cap. The applicator tip should have a frosty appearance. USE PEN IMMEDIATELY.

If there is no frosty appearance, repeat step 2.

Step 4: Treat

Immediately press the tip firmly against the wart.

Follow the application time for your wart shown in the Diagram and Table above.
Maximum 20 seconds on hands, fingers and arms.
Maximum 40 seconds on feet.
Wait at least two (2) minutes after use, then dispose of foam applicator tip. DO NOT reuse applicator tip or touch the applicator tip with bare hands to ensure you do not re-infect your skin with the wart.
Insert a new foam applicator tip into the pen and replace the cap. Compound W® NitroFreeze™ is now ready for future use. Store at room temperature away from heat.

Comfort pads (not included) can be used to protect the tender plantar wart area after treatment has been completed. Apply adhesive side of pad to skin with hole directly over the small tender spot.

The wart will fall off within 10-14 days. If not, repeat steps 2, 3 and 4.

Danger - Content under pressure. Never pierce or burn, even after use - the device is under high pressure and cannot be opened.  Protect from sunlight and do not expose to temperatures above 120° F (50° C) before first use or 95° F (35° C) after first use; exposure to temperatures above 95° F (35° C) after first use will activate a safety feature that disables the device permanently. Store at room temperature away from heat.  Nitrous oxide is a non-flammable gas, but it will support combustion in case of fire. Keep away from flames or materials that burn easily, or are sources of sparks or ignition, including mobile phones, radios, and other electrical appliances. Do not smoke or use near an open flame. Do not inhale nitrous oxide - symptoms can include feeling dizzy or confused and headache.

Warnings: Keep Out of Reach of Children. Avoid contact with eyes. Do not inhale vapor/spray and use only in well-ventilated areas. Do Not Swallow. For External Use Only. Use this product only if you are sure that the skin condition is a wart. If you are not sure consult your doctor. Do not use if you cannot see clearly to read the information on the container or the Information Leaflet. Do not use if you cannot clearly see the wart you are treating. Use only as directed. If this product is not used exactly as instructed or if you mistakenly use it on conditions that are not warts, it may cause serious burns (frostbite) and permanent scarring on the skin.

Caution: Do not use Compound W® NitroFreeze™: if you do not hear the "hissing" sound during activation (release of gas), and/or; if the "hissing" sound continues after activation, and/or; if the foam tip does not become cold after activation (the tip should have a frosty appearance). If one or more of the above mentioned conditions occur, the device may not be functioning properly. Failure of the device may lead to injury or insufficient/incomplete treatment. Do not reuse the disposable foam applicator tips. Do not treat each wart with this product more than three times in total. Consult your doctor if three treatments have not led to improvement.