Compound W® Fast Acting Gel + ConSeal™ Patch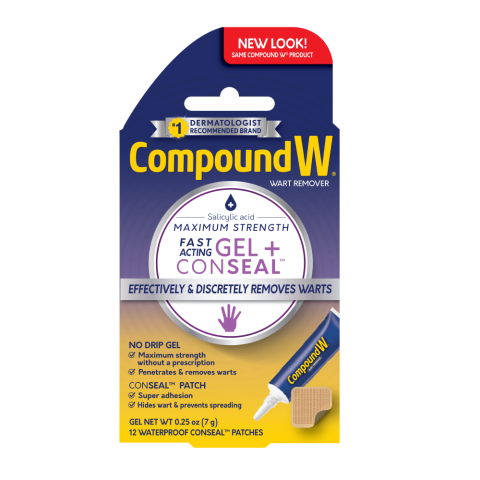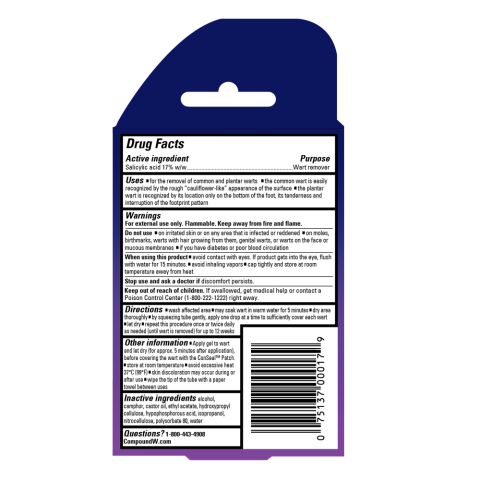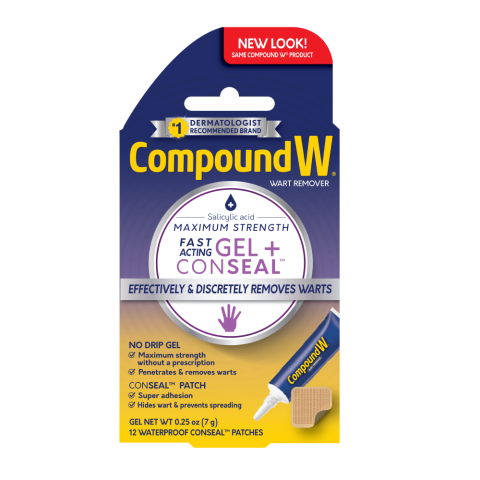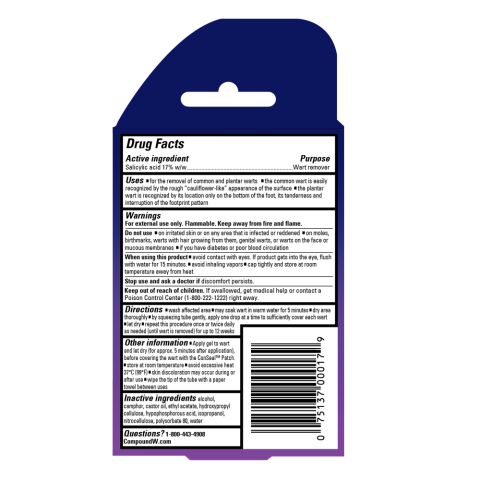 Compound W® Fast Acting Gel + ConSeal™ Patch
A new way to discreetly treat warts. Use maximum strength, no drip gel to easily and effectively remove the wart. After the gel dries, apply the optional ConSeal™ Patch – a thin, flexible and super-adhesive patch specially designed to cover a treated wart and help prevent it from spreading.
No Drip Gel:
Maximum strength without a prescription
Penetrates & removes warts
ConSeal™ Patch:
Discreetly hides wart
Super adhesion
Prevents warts from spreading
Waterproof
Use As Directed.
Directions

Wash affected area

May soak wart in warm water for 5 minutes

Dry area thoroughly
By squeezing tube gently, apply one drop at a time to sufficiently cover each wart
Let dry
Repeat this procedure once or twice daily as needed (until wart is removed) for up to 12 weeks

Uses

For the removal of common and plantar warts

The common wart is easily recognized by the rough "cauliflower-like" appearance on the surface
The plantar wart is recognized by its location only on the bottom of the foot, its tenderness, and the interruption of the footprint pattern

Other Information

Apply gel to wart and let dry (for approx. 5 minutes after application), before covering the wart with the ConSeal™ Patch.
Store at room temperature
Avoid excessive heat 37°C (99°F)
Skin discoloration may occur during or after use
Wipe the tip of the tube with a paper towel between uses

For external use only.

Flammable. Keep away from fire and flame.

Do not use

On irritated skin or on any area that is infected or reddened. 
On moles, birthmarks, warts with hair growing from them, genital warts or warts on the face or mucous membranes. 
If you have diabetes or poor blood circulation.

When using this product

Avoid contact with eyes. If product gets into the eye, flush with water for 15 minutes. 
Avoid inhaling vapors.
Cap tightly and store at room temperature away from heat.

Stop use and ask a doctor if discomfort persists.

Active ingredient
Salicylic acid 17%

Purpose: Wart Remover

Inactive ingredients: alcohol, camphor, castor oil, ethyl acetate, hydroxypropyl cellulose, hypophosphorous acid, isopropanol, nitrocellulose, polysorbate 80, water